f/32 Photography: Behind the Glass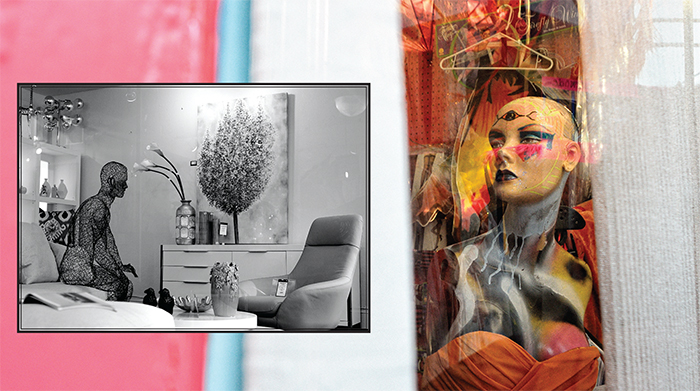 Story & photos by Joe Longobardi
As you walk down the street, you encounter a giant caterpillar, alligators in polo shirts, and a sea of heads with rainbow-colored heads.
No, you have not fallen down the rabbit hole, you've merely stumbled upon the eye-catching window displays of the boutique shops that grace the downtown Asheville landscape.
From the early to mid-twentieth century in America, department store window displays offered fantasy worlds of elegance that reflected an emerging and prosperous middle class that embraced a life of leisure and luxury.
Times and economic conditions have changed, of course, but the spirit of celebrating one's own personal traits rather than merely accepting the status quo remained. This attitude of individual expression can be seen in cities across the United States. Asheville is no exception, as evidenced by its many unique window displays that offer an eclectic fare of fashions and lifestyles.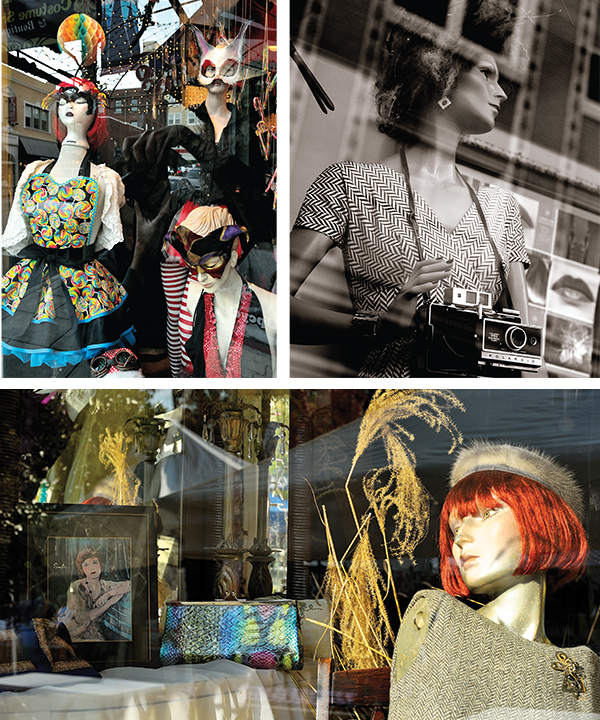 Walk our downtown streets and you will find the flamboyance of the window displays reflect the bohemian dress and attitudes of the people who call Asheville home.
Kim's Wig Center, noted for its whimsical display of dozens of mannequin heads sporting multicolored wigs, is probably one of the most photographed downtown displays with pictures appearing on postcards and in paintings available in several gift shops.
It is, however, the transition of the more temporary displays that draw me to want to photograph them. In many shop windows, the mannequins are provided new clothes and props, sometimes weekly, with which to "play out" their plastic lives.
For capturing an entire display, the obvious lens would be a wide focal length such as 20mm or 28mm. But it's sometimes more fun to zero in on some of the more intriguing details of the scene either by getting in closer with the wide-angle lens or by using lenses such as 85mm or longer.
Reflections on the glass of the window may at first appear to be problematic and you may want to use a circular polarizer to remove it from the image. Instead, consider incorporating these reflections of buildings and passersby as part of the overall composition.
With a little attention to the "intrusive" reflections, you can have a multilayered effect without having to create an in-camera double exposure and without resorting to layering images in a photo-editing program.
And if you happen to get a glimpse of your own reflection in the looking glass, like Alice, look and see what else you can find there.
Joe Longobardi (joelongobardiphotography.com) is an Asheville editorial, documentary, and street photographer. His work has appeared in numerous publications and been exhibited in galleries throughout the region. Joe is a member of the f/32 Photography Group, an organization whose members share an appreciation and love of the art. Meetings are the second Wednesday of each month starting at 6:30 p.m. at the Reuter Center on the UNCA campus. Find out more at f32nc.com.
---
| | | |
| --- | --- | --- |
| Related Articles | More in Arts | Also in This Issue |