f32 Photography: Everyone Loves a Parade!
Story & photos by Joe Longobardi - Post Date: 05.01.2012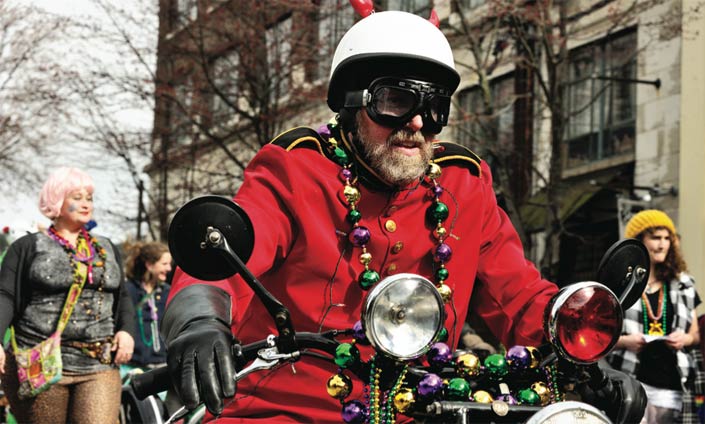 If there's one thing Asheville loves, it's a parade with a contemporary twist. From family fare to the extremes of political rallies, the city never comes up short on events worthy of a shutterbug's attention.
In the United States, we have a fantastically diverse cross section of people, cultures, and creeds, and this is often reflected in a community's parades. Asheville is no exception.
One of the city's more renowned annual events is Goombay, a three-day multicultural festival whose origins trace back to West Africa. The name itself means rhythm or drum, and the event is filled with rhythmic sounds and colorful sights. There's often a small but elaborate and colorful parade replete with drummers and stilt walkers.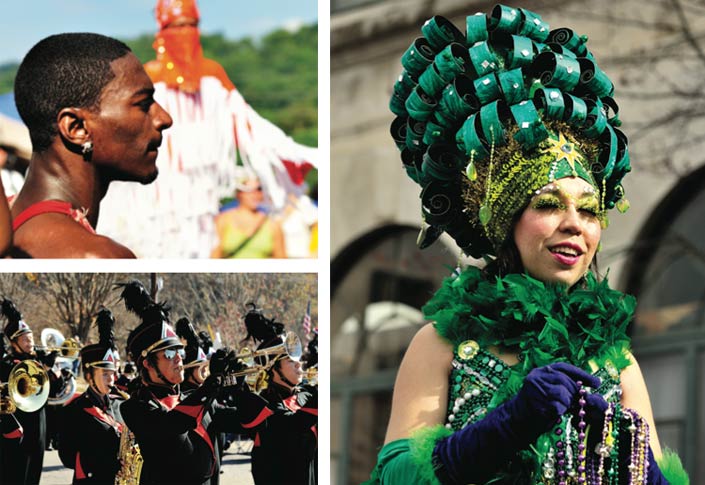 The Asheville Mardi Gras is a small but no less theatrical event that, like many versions held around the world, is celebrated in accordance to local traditions. The popular practice of wearing masks and costumes and the blatantly jocular snubbing of social conventions is ripe for some dramatic and at times sublime imagery. Even the more rural neighboring town of Marshall has embraced the tradition and now holds its own version of the event.
The Annual Asheville Zombie Walk offers an array of walking dead taking to the streets of an unsuspecting city. Decapitated monsters, zombie clowns, and flesh eating cheerleaders offer up the opportunity to recreate a rather ghoulish family album that would do George Romero proud.
Of course, some things rarely change. The Annual Holiday Parade, held around Thanksgiving, is a recipe for some classic images straight out of A Miracle on 42nd Street. Horses, elves and Santa abound! You want local color? One of the festivity's biggest crowd pleasers is the parade of tractors, a tribute to the area's longstanding agricultural community.

Colorful and elaborately decorated costumes at these events provide a great opportunity to capture some unique, up close portraits. A few technical things: Scout the area for good locations to shoot. You may find it necessary to remain embedded in one location to avoid interfering with the procession, so try to make sure you can capture photos without too many spectators blocking your view. For more dramatic shots, try to be on the move some 20 feet ahead of the parade to get some good oncoming and passing shots. Using just one camera? A zoom lens is your best friend.
Running alongside a procession is, to a degree, the thrill of the chase. Before you know it, you're part of the event. Don't let the parade pass you by!
Joe Longobardi (joelongobardiphotography.com) is a documentary and portrait photography. He is a member of f32 Photography Group, an organization that meets the second Wednesday of each month at the Reuters Center on the UNCA campus at 6:30 p.m. Find out more at f32nc.com.
---
| | | |
| --- | --- | --- |
| Related Articles | More in Arts | Also in This Issue |