A Journal of Asheville Street Photography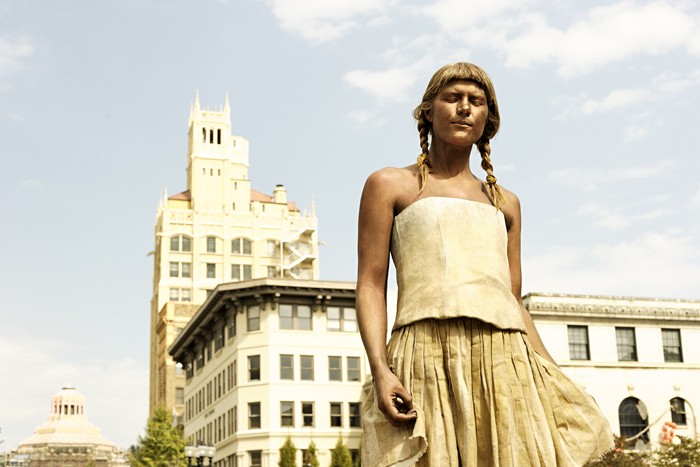 Story by MELANIE FERGUSON
Photographer Joe Longobardi describes art as the "essence of being." He finds ideas for his photos everywhere he looks, and since 2007 has turned to Asheville's street scenes for inspiration. This month, Joe's photography will be featured in a solo exhibit at Grateful Steps Bookstore, 159 South Lexington Avenue in Asheville.
In conjunction with the show is the release of his first book, Urban Photography from the Streets of a Bohemian Mountain Town: The Art of Performance. A reception with the artist will be held Friday, August 8, at 6 p.m. Joe will have books for sale, and subsequent copies will be printed on request. In addition to the softcover editions, e-books will also be available.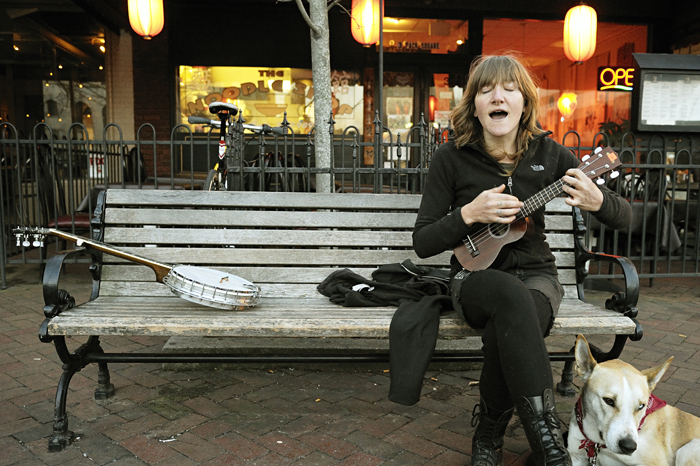 This 146-page book highlights the culture of performance art in downtown Asheville. Thirty photos from the book will be on display in the show, and include a mix of living statues, musicians, and moments of life in downtown Asheville.
"The book is more cohesive since it is the definitive version of the show," says Joe. Although it's a long book title, Joe feels it is all encompassing. He describes a mix of culture in Asheville, the bohemian dispositions alongside Southern mountain temperaments.
Joe's goal is to portray the performance aspects of the people he photographs. He hopes viewers understand the heartfelt passions these performers are living. He believes people will relate to the book, recognizing in their hearts and minds the moments he has captured. "The images are my experiences from wandering the streets, but they could be anyone's experiences and encounters. I just make it a habit to look for these moments. Maybe it will inspire people to see beyond the masks we wear," says Joe.
The book also includes several pages explaining his process and philosophy of photography. "I wanted to include just enough information so that readers can understand how each image and chapter flows into the next with a purposeful serendipity," explains Joe. "Each image engages the next image in some fashion but remains a standalone piece. The idea is to show the whole and the parts of the whole all at once."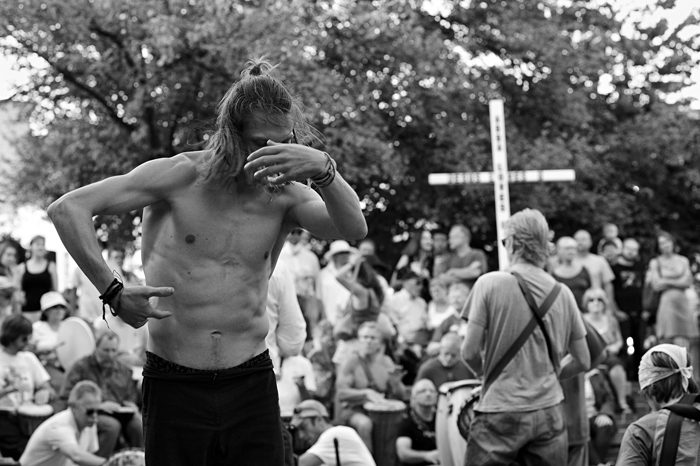 Joe thanks Grateful Steps Bookstore for the opportunity to exhibit his art and announce his new self-published book, which he hopes is the first of several he publishes on Asheville themes.
Joe observes the dynamic culture of Asheville, noting the large amount of change in the city scene since he moved here in 1999 as well as its constant ebb and flow. He finds many people here to be "living their art and engaging in the art of living."
He says, "After talking to buskers, demonstrators, and just people I've met on the streets, you find that each reality is valid. Each individual contributes to the color palette that paints the character of life into the city."
Joe's style of photography mixes traditional photography with photojournalism in efforts to document the human condition. "Where a photojournalist has intent to gather images that have a semblance of real life, a street photographer is driven by the idea of chance, luck and the unusual—You don't plan it, you allow it to happen," explains Joe. "What I try to do is document the moment with little intervention on my part."
Joe believes his photography is always evolving. He has shot a variety of projects, from baby portraits to political rallies. His belief is that all the experiences have helped define his art of photography and define himself as a human being. "If I can grow to be a better person from engaging people, then that's something no one can ever take from me," says Joe.
In his continuing effort to develop his craft, Joe belongs to the f/32 Photography Group and is a member of the group's steering committee. Through these opportunities, he can connect with other photographers, while also gaining constructive criticism and discovering new directions for his work. Joe encourages other photographers to participate. Joe explains, "You learn how to create and cultivate a body of work to eventually find your own voice as an artist."
For more information, visit joelongobardiphotography.com. Melanie Ferguson is a freelance writer and Realtor living in Weaverville.
­­­­­­